It's part of every parent and caregiver's worst nightmare- getting a call or seeing on the news that there has been a mass shooting at a school. These events are not something that many of us feel equipped to process, let alone help our children manage but there are things we can do to help.
Our words and actions matter.
Children rely on adults to help keep their world safe, and they tend to defer to adults on this issue. If the caregivers around them are calm and responsive, children go about their daily lives with a sense of security and safety. If caregivers are worried and fearful, children will respond with like behavior, even if they do not understand what is wrong. We need to be mindful of our words and actions in times of stress, as children are still developing their ability to keep levels of danger in context and need us to help be gatekeepers of information.
What can we do?
The answer to that will vary as to how close you are to where the event occurred and how old your child is. In an age of 24-hour news media and online social networks, it might seem impossible to avoid exposure to news and information, but for young children who are not near the event, it is recommended to shield them as much as possible and to not talk about the event when they are within hearing distance. If you live near where an event occurred or have older children who become aware of an event, it is important to meet your children where they are developmentally.
Emphasize that your children are not in any immediate danger themselves
Help focus on the helpers in the event – what the police, EMTs, school staff, and other adults are doing to help
Try to correct any misinformation as simple as possible by providing basic facts if necessary
Limit exposure to repetitive news coverage of the event
Allow your children to voice worries and concerns and validate their feelings. Young children may use imaginative play rather than words to process their worries and feelings
Help children generate ideas about what might help them feel safer in the moment if they are feeling uneasy
It's also important to remember that children show stress in various ways.
Clinginess, disrupted sleep, irritability, separation anxiety, or regressed behaviors can all be a sign that a child is having increased worries. This is normal after a tragic event but if it is prolonged and doesn't respond to usual comfort, you may wish to consult with your child's pediatrician or other child development professional.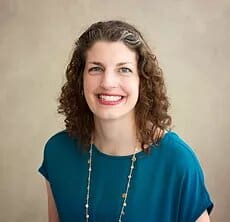 About the Author. Dr. Lauren Formy-Duval is a licensed psychologist practicing in Durham, North Carolina. Working with children and families for over 15 years in schools, hospitals, community agencies, Dr. Formy-Duval is currently in private practice and is also an adjunct faculty member of the US Nanny Institute.
If you would like to learn more about caring for children, the US Nanny Institute is a global leader in nanny training and certification. With a comprehensive program from newborn through elementary ages, Nanny Institute graduates are elite nanny professionals.