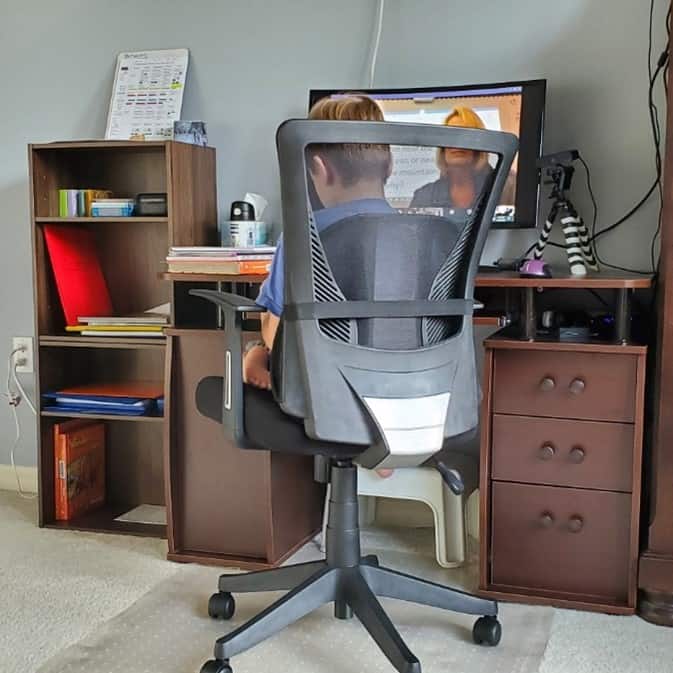 Contributed By:
Elizabeth Malson on September 29, 2020
We started eLearning and by the end of the school year, the room was a total disaster! Here is what we learned to help parents and nannies set up an eLearning workstation.
When we decided to continue with eLearning, we decided on a proactive approach. We wanted to set up a specific workstation with sufficient storage for books and supplies. We were fortunate to find an inexpensive desk and bookshelf (some assembly required) and set them up against the wall. To make the room feel comfortable for the student, we let him determine which books and folders went on each shelf and where his pencils, pens, ruler, and other school supplies were kept. This ensured he knew how to find the different materials he needed for each class.
On the desk, we centered the monitor on the workspace and adjusted the chair so that he was sitting at the proper height for the keyboard and mouse. We needed a camera and decided to buy a separate camera with a USB rather than using the built-in camera so we could have more flexibility and allow for different interactions (face or full body views) during live sessions. We were careful with the placement of the camera and made sure there were no distractions in the background. We also explained that when the camera was active, his teacher and fellow students could see what he was doing, so he had to dress and behave appropriately.
We had headphones readily available, but he chose not to use them. Depending on the child and the environment, headphones may be required. In some environments, headphones can help students block noise from others and/or allow soft music to play which helps auditory learners.
Our desk came with a keyboard tray that allows the desktop to be relatively device free. This allows our student to work on assignments in clear view of the camera with minimal crowding. The desk area is also used when the student has off-line work, such as research projects or art assignments. Off to the side of the monitor, we added a tissue box, pencil cup, small lamp, and coaster. We explained that our student could not have food and cups at the workstation, but a single water bottle was allowed.
Setting up a workstation can help children with eLearning as children are very routine driven. Find a dedicated spot in the house which can be a desk, kitchen table or a chair next to an end table. If possible, have ample space for storage of books and supplies and desk areas for non-computer work. Before classes start, checked the wifi speed. We had 50 mbps but the combination of a parent working from home and eLearning live video stressed the wifi and caused glitches. We chose to increase our wifi speed to 100 mbps to help prevent wifi disruptions.
If you are interested in learning more, nannies and parents working with eLearning students can earn an eLearning Facilitator credential by completing 15 hours of online classes.
The US Nanny Institute provides online childcare classes with certification programs based on a curriculum specifically designed to advance the skills of Nannies and Sitters. The Nanny Institute has over 30 college faculty with a passion for education and childcare, bringing them together to help childcare providers gain practical skills and qualifications that benefit their careers and the children in their care.