The Specialist Childcare Certification program broadens your Nanny career. Specialist Childcare graduates gain insights into special needs childcare, children with medical needs and special diets, and expands leadership skills needed to be a Family Assistant or Household Manager. The Specialist program also includes the eLearning Facilitator certification at no additional charge. See a complete class list and meet our 33 faculty instructors. All faculty instructors have at least a Master's degree and five (5) years of direct experience in their area of expertise.
The Specialist Childcare program is designed for nannies seeking full-time positions with additional responsibilities including family assistance and household management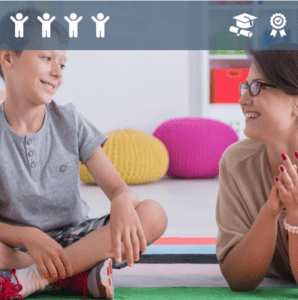 Baby sign language
Teach social skills
Childhood obesity
Children at risk
Lesson planning
Special diets
Special education
Diversity & inclusion
Caring for pets
Household management
This specialized Nanny and Sitter training program is 100% online with 24/7 on-demand access to faculty-taught classes. Focused on expanded responsibilities including schedule management and overnights, the Specialized Childcare program is 40 hours of childcare classes. The 40 hours include 10 hours of Specialist classes, 10 hours of Advanced classes, 10 hours of Intermediate classes and 10 hours of Basic classes.
Each class is an on-demand video by our faculty and every class has a study guide that you download. You complete the study guide as you watch the course. After each course, there is a short quiz to test your understanding of the course material. The study guide and quiz prepare you for the proficiency exam at the end of the program. The assignments and proficiency requirements (quizzes & exams) in addition to a comprehensive curriculum and college faculty are the foundation for the US Nanny Institute to issue Certifications, not certificates of attendance.
The eLearning Facilitator Certification is included with the Specialist Childcare program at no additional cost. The eLearning Facilitator program requires 2 additional hours of training (Classroom Management and Supporting eLearning) and passing the proficiency exam. This program is optional and allows students to earn both the Specialist Childcare and eLearning Facilitator Certifications.
Want to elevate your Nanny career? Professional Childcare graduates are actively recruited by top nanny agencies as they meet the job requirements and have the specialized training desired by high net worth families and employers. If so, check out the Professional program. The Professional program includes Newborn Care Specialist Certification at no additional charge.
Payment Options
You have payment options. You save by paying in full or you can purchase the program 10 hours at a time.
Start Date:
Now Enrolling
Time to Complete:
40 hours
Total Tuition & Fees:
$1050
CC 101: Understanding Children
This course teaches the importance of attachment and provides an overview of child development stages for newborns, infants, toddlers, preschoolers, early elementary and primary years with a focus on physical, social, and emotional developmental milestones.
CC 102: Children and the Law
Laws differ in each state, but compliance with local child safety provisions is always mandatory. This course will review relevant laws on proper transportation, injury liability, child abuse, contracts, emergency treatment, and legal protections for childcare workers.
CC 103: Positive Discipline
Discipline is teaching children to manage their emotions and behaviors. This course starts with learning theory, reinforcement and rewards, then provides tools for decision making and setting up an environment that encourages prosocial behaviors. Common situations are discussed with guidance on when and how to intervene in specific situations that are likely to arise when caring for children.
Conducting yourself with high character, integrity, and behaving with moral principles is required to be a positive role model for children. This course teaches how to engage professionally and make appropriate choices while employed in childcare.
GE 102: Stress Management
Stress during childcare is inevitable as juggling children, parents, play dates, and a personal life is a lot. This course teaches the causes and symptoms, biology and management of stress. The course also provides behavior tools and techniques to reduce and manage stress reactions as a caregiver and tools to help children manage their stress.
HS 101: Emergency Planning
Being prepared can help identify potential emergencies and possibly save lives. This course will teach specific actions needed for weather, medical, fire, unsafe situations, auto accidents, power loss, and active shooter situations as well as provide tools on how to develop and use an emergency plan.
HS 102: Safety in the Home
One of the primary responsibilities of a childcare provider is to supervise and monitor the safety of children in their care. This course will identify many of the physical risks including hazards, poisons, baby equipment, outdoor safety and discuss ways to eliminate or minimize the risk of injury or harm.
More than 350 children drown each year. This course discusses drowning risk factors, techniques to reduce drowning risk, dry and secondary drowning, types of floatation devices, and provides water safety guidelines when in, on, or around the water.
From farming to the kitchen, food safety decreases the risk of foodborne illnesses caused by bacteria, viruses, parasites and allergens. This course teaches food safety practices to prevent contamination, reduce pesticide exposure and safely prepare, cook, store, and reheat food.
OP 103 Payroll, Taxes & Benefits by HomeWork Solutions
What a Nanny or NCS needs to know about payroll, taxes and benefits by Jay Schulze, President of HomeWork Solutions.
This course covers newborn and infant developmental milestones, holding, feeding, diapering, soothing, common ailments and signs of illness.
Toddlers are beginning to walk, engage in receptive and expressive communication, and are developing social, emotional, and reasoning skills. This course focuses on developmental milestones (physical, cognitive, social and emotional) and creating an age-appropriate daily schedule.
Preschoolers are developing their basic life skills, independence, and knowledge they will need as they enter their school years. This course reviews developmental milestones (physical, cognitive, social and emotional) and how to prepare preschoolers for kindergarten.
As children grow into ages 6-8, they continue to advance physically and develop more cognitively, enabling a greater range of behaviors and emotions. This course reviews developmental milestones, physical needs, and sexual development.
CC 205: Children and Literacy
This course teaches early literacy skills for infants and toddlers while promoting strong reading and writing skills for preschool and kindergarten children. The course discusses advanced reading levels, the common core curriculum and how to support reading at home.
This STEM (Science, Technology, Engineering, and Math) course leverages a child's natural curiosity with a structured approach to learning. The course includes differing, age-appropriate activities that advance innovation and strategic thinking in children.
HS 201: Childhood Fitness
This course discusses the elements of fitness including body composition, endurance, flexibility, strength training, and provides examples of age-appropriate exercise programs.
This course teaches correct handwashing, how to manage common ailments (croup, RSV, flu and many others), recommended vaccinations, and over the counter medications.
An optional seminar on car seat safety that discusses the importance of rear-facing and correct installation.
CC 301: Learning Environments and Styles
The learning environment for children in the early years (ages 1-5) plays a critical role in development. This course teaches how to implement effective learning environments and support different learning styles.
CC 302: Teaching Self-Regulation
Self-regulation refers to a person's ability to manage and control their feelings, thoughts, and behaviors. It is a critical foundation for learning and good decision making. This course explores self-regulation and provides information and tools to help foster and support this development in children.
CC 303: Advanced Newborn Care
This course teaches how to care for preemies, the science of breast milk and formulas, and advanced medical and health issues including circumcision, cleft palate and tongue tie, pyloric stenosis and plagiocephaly.
CC 304: Helping with Homework
Homework is designed to help students review key concepts and provide extra time to practice new skills. This course provides tools to create a positive homework environment, ensure students remain responsible for their homework, and shares practical ways to help children complete assignments.
CC 305: Children and Music
Music helps the body and mind work together. This course introduces appropriate song literature, provides tools to teach music, and demonstrates musically integrated activities for children of different ages.
Arts and crafts help children develop mentally, socially, and emotionally as well as boost self-confidence. This course focuses on how art helps develop critical thinking skills, pre-reading and writing skills. Practical tips are provided to implement art in the home.
GE 301: Communicating with Families
This course strengthens communication skills by reviewing barriers, identifying different communication styles, reviewing effective communication habits, and discussing how to have difficult conversations. The course also provides practical tools to develop a communication plan.
This course discusses the diverse types of families and parenting styles including authoritarian, authoritative, laissez faire, and uninvolved. The course also covers parenting stereotypes including attachment, tiger mom, helicopter, and free-range.
GE 303: Classroom Management
Classroom management is an essential element in working with groups of children. This course will introduce practical tools to understand and use an established process that can be applied to group play dates, birthday party games, and summer camp structured activities.
HS 301: Fitness for Child Athletes
More than ever, children are participating in sports. This course shares the benefits of individual and team sports, the appropriate ages to compete in different sports, and how to teach sportsmanship. The course discusses how to help keep athletes safe and ensure they get proper nutrition.
HS 302: Nutrition for Children
Food plays a significant role in the health and wellbeing of children. This course teaches the components of nutrition, how nutrition affects health, food allergies, and the nutritional needs of children by age.
This course teaches how to use lesson plans, components of an effective lesson plan and provides example weekly plans for ages 3-10 with tools to clearly define learning outcomes.
This course examines the factors that create or increase risk to children. The course reviews cause of risk, including strain theory, and provides practical ways to support children at risk.
Special education skills are needed to care for children with special needs or those with disabilities. This course introduces childcare providers to different types of special needs, tools that can be used with children, and how to be an advocate for young children with special needs and their families.
CC 404: Baby Sign Language
Most babies can sign before they speak so parents are using baby sign language to boost communication. This course teaches why and how to use baby sign language, when to teach signs to babies and teaches you the most common baby signs.
CC 405: Multiples and Siblings
This course is designed to help you better understand the multiple birth dynamics, what may be expected of you and how you can better manage the unique challenges of caring for multiples and supporting siblings.
CC 406: Supporting eLearning
Children face different challenges when learning from home as part of a home schooling program or a public or private school curriculum being implemented at home. This course shares how to best support the teacher and help the child stay focused and progressing forward in their academic development.
GE 401: Teaching Social Skills
This course provides tools to teach children how to listen attentively, apologize, accept 'no' as an answer, disagree appropriately and greet others. Etiquette and manners are taught so children understand personal space, table manners, phone etiquette, and internet safety.
GE 402: Household Management
Childcare positions may add household management responsibilities including schedule management, food preparation, cleaning, and pet care. This course defines household management and family assistant responsibilities, provides examples of weekly meal and activities schedules, and reviews the basic skills of cleaning, doing laundry, and sewing.
Most families have a pet so this course teaches how to meet a new dog, how to identify medical emergencies in a dog or cat and reviews daily care for dogs and cats.
GE 404: Diversity and Inclusion
This course defines culture and discusses culture relativism and culture appropriation as well as provides practical ways to teach children about diversity and inclusion.
HS 401: Child Obesity and Diabetes
This course discusses the impact a diet has on overall health, reviews weight management and height norms for children, teaches how to read labels and make healthy dietary choices, and explains diabetes management.
This course discusses when a special diet is needed for behavioral, medical or cultural reasons and teaches common types of diets including elimination, gluten-free, ketogenic, FODMAPs, paleo and others.
Frequently Asked Questions
Are there financial payment plans, discounts or sales?
The US Nanny Institute offers Enroll As You Go which allows you to make $350 payments over time by purchasing each level separately. This allows students to pay for 10 hours of class at a time. Our eCommerce platform is Shopify and Shop Pay allows for you to select a payment plan option for a program purchase.
The US Nanny Institute also offers scholarships, when available. While businesses can offer payment programs, discounts and sales, Amslee Institute is a career college and adheres to the Department of Education requirements. Licensed post-secondary schools must comply with 6E-1.0032(7), F.A.C which states, "Tuition or fee discounts are not permissible."
Can I watch the classes on my phone? ​
Yes. You can download the SAP Litmos app and log in to your student portal on your phone. Each class has a study guide that can be completed so you may want to download or print the study guide from a computer prior to watching the class on your phone.
I am not living in the United States and I am not a US citizen, can I enroll?
Yes, you can enroll online and complete the program from any location in the world. Job placement services; however, are only available to those living in the United States.
You do not need to be a United States citizen but you must upload a copy of a government-issued identification from any recognized country to verify your identity.
Do these programs count for the US Nanny Association Certifications?
Yes. All programs (Basic, Intermediate, Advanced, Specialist and Professional Childcare, Newborn Care Specialist and eLearning Facilitator) are accepted by the US Nanny Association for the training requirements to earn the Nanny and Childcare Provider (NCP) Credential. The Newborn Care is accepted by the US Nanny Association for the training requirements for the Newborn and Infant Care Professional (NICP). The Professional Childcare program is accepted by the US Nanny Association for the training requirements to earn the Professional Nanny and Childcare Provider (PNCP) Credential.
The US Nanny Association and the US Nanny Institute are separate entities. Like many childcare businesses, the US Nanny Institute is an organization member of the US Nanny Association.
What are the enrollment requirements?
Enrollment requires students to be at least 18 years old and have a government-issued identification (from any recognized country). Students sign up online by paying the tuition and fees, then immediately checking their email SPAM or Junk folder to access and log in to their student account. Students must sign an Enrollment Agreement and upload a copy of government-issued identification. Within 30 minutes of signing the paperwork and confirming the student's identity, the classes will unlock in the student's account and they can begin the program.
I've been a Nanny for over 10 years, can I skip some programs and just take the 10 hours of the Professional program?
No, the programs are designed and approved as a comprehensive curriculum. Every course, including those in the Basic and Intermediate programs, are designed to cover the fundamentals as well as provide advanced training on the subject matter for those students with significant childcare experience. The programs provide collegiate-level education and must be completed in order from Basic to Intermediate, then Advanced, Specialist and Professional.
Will I need to buy textbooks?
No, all the course materials are available online and included in the tuition and fees. Every course has a study guide that can be downloaded and used to capture notes from the course. The courses are copyrighted and cannot be saved on a personal computer in any way. The exceptions are reference materials and course study guides, which can be downloaded from the Additional References page in the student portal. Any personal notes taken during the program can be saved as a reference. Amslee Institute grants unlimited access to all the course materials during the 12 weeks of enrollment.
Placement Services
Included at no additional cost
This course uses nanny specific examples of a traditional and visual resume to teach resume writing as well as demonstrates how to modernize a nanny portfolio using LinkedIn.
Knowing the most current job seeking trends and skills creates an advantage in gaining a desired position. This course will review the types of jobs in childcare, practical tools to find the right job opportunities, and how to network and use social media to enhance your professional reputation.
Interviews are a critical part of the employment process that enables potential employers and candidates to learn about each other. This course will help you prepare for an interview, know what to expect during the interview, how to end an interview, and what to write in thank you notes.
Negotiating employment compensation may create anxiety but is an important skill to make sure you feel valued and fairly compensated for your work. This course will help you determine what components of compensation are most important to you and how to effectively communicate with a potential employer on salary and benefits.
Negotiating employment compensation may create anxiety but is an important skill to make sure you feel valued and fairly compensated for your work. This course will help you determine what components of compensation are most important to you and how to effectively communicate with a potential employer on salary and benefits.
The US Nanny Institute proudly uses SAP Litmos as our eLearning partner. SAP Litmos Mobile makes learning more accessible for you by ensuring you can access all your eLearning courses via your smartphone. With this app, you can easily search for your organization's learning content and access it anytime, anywhere. With this app, students gain flexibility, have greater engagement and course consumption. This app requires an active SAP Litmos account which is your US Nanny Institute username and password.
Free Online Class - Nanny Contract & Newborn Care Work Agreement Example
Taking time to think through and write down job expectations will help ensure parents and nannies understands the responsibilities and compensation. Nanny contracts and newborn care specialist contracts help reduce confusion and create a more positive experience. This course will share why you need a nanny agreement and what elements should be included in a nanny contract. The second video walks through a 14-page example that can be modified to your nanny job.
Download - Nanny Contract & Newborn Care Work Agreement Example
You can download an example nanny contract that includes all the elements needed to hire a part-time nanny, full-time nanny, live-in nanny, overnight nanny, or a newborn care specialist. The example covers nanny job duties, compensation, benefits including nanny training and so much more. You can download the nanny contract example as Word (.doc), Adobe (.pdf) or .pages file. The file is unlocked so you can modify, edit and delete.
The US Nanny Institute is providing this example to educate parents, nannies, lawyers and others about the unique considerations for in-home childcare. The example illustrates components of a work agreement but the US Nanny Institute is not responsible for any edits or modifications. The US Nanny Institute recommends a local lawyer review any contract between parents and nannies to ensure the agreement meets all federal, state and local laws.
The Works: Nanny Contract  Example - Word |  Doc 
The Works: Nanny Contract  Example - Adobe |  PDF 
The Works: Nanny Contract  Example - Pages
Turn Your Education into a Career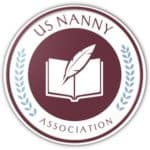 The US Nanny Institute's specialized curriculum provides a comprehensive approach to childcare and child development, teaching nannies diverse, proven methodologies and childcare skills that align with the differing needs of families, parenting customs and laws in the United States.
The Childcare programs are aligned with national early childhood development post-secondary curriculums, the National Association for the Education of Young Children (NAEYC), the American Academy of Pediatrics (AAP), and the US Nanny Association's National Standards. US Nanny Institute programs and courses are accepted for the Nanny and Childcare Provider (NCP), Newborn and Infant Care Professional (NICP), and Professional Nanny and Childcare Provider (PNCP) Credentials.
We've made advancing your education easier with online Childcare programs that fit into a busy working schedule. All of our Childcare programs for Nannies and Sitters are taught with industry-experienced instructors and a specialized curriculum for in-home childcare so you feel confident you receive the skills you need to provide better care for children. Whether you are new to childcare or want to advance in your current career, you can achieve your goals and strengthen your passion for education and enriching the lives of children and families.