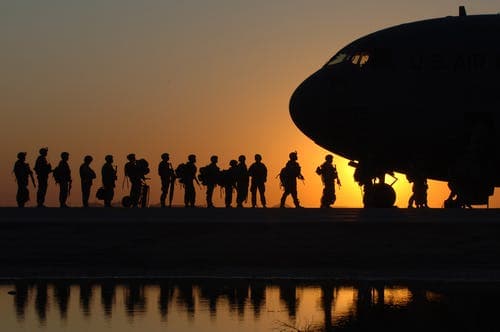 Contributed By:
US Nanny Institute on November 9, 2020
Each year, Veteran's Day is celebrated in the United States on November 11th. Parents and Nannies can help children understand the meaning behind the Veteran's Day holiday. With the meaning in mind, nannies and parents can celebrate this tradition with music, crafts and storytelling.
Armistice Day
Historically, Veteran's Day was called Armistice Day or the day World War I ended. WWI ended on November 11, 1918 at 11:00 am. In the United States, Veterans' Day has broadened from celebrating the end of WWI to honor all those who have served our country. This includes service in the military duirng war or peace. While celebrating past and present service members, living veterans are the focus of parades and services. Veteran's Day also offers the opportunity for parents, nannies and children to thank our military service personnel for their service and sacrifices.
For nannies and children who do not attend an event, a moment of silence may be observed at 11:00 am. This is a great way to acknowledge and respect those who have served.
Difference Between Military Holidays
With several military holidays, children may ask, what is the difference between Veteran's Day, Armed Forces Day and Memorial Day?
Veteran's Day (November 11) honors all who have served with a focus on living veterans.
Armed Forces Day (the third Saturday in May) honors those men and women who are currently serving in the US military. This includes all branches – the Army, Air Force, Space Force, Navy, Marines, and Coast Guard.
Memorial Day (the last Monday in May) honors those who died while in service to our country. Memorial Day is sometimes referred to as Decoration Day. Many people visit veteran's graves and place flowers, flags, and wreaths on the graves of the fallen.
A version of Veteran's or Armistice Day is celebrated globally, with local influences and traditions. Over 100 years after the end of WWI, millions of people in the United Kingdom, Canada, France, Australia, and New Zealand commemorate the anniversary of the 1918 Armistice. They often wear a red poppy to mark the occasion. The poppy became the symbol of remembrance. A brigade surgeon noticed poppies growing on a ravaged battlefield which inspired him to write a poem. "In Flanders Field" channels the voices of the fallen soldiers. It begins with the words, "In Flanders Field", the poppies blow, Between the crosses, row on row".
Veteran's Day Celebration Ideas
It is important to listen to children as they share their ideas and what it means to be a Veteran. While they may be young, many children have high emotional intelligence and understand that military service should be respected and honored. Nannies can learn more about teaching children social skills which is a class in the Specialist Childcare Certification program.
The US Nanny Institute provides online childcare classes with certification programs based on a curriculum specifically designed to advance the skills of Nannies and Sitters. The Nanny Institute has over 30 college faculty with a passion for education and childcare, bringing them together to help childcare providers gain practical skills and qualifications that benefit their careers and the children in their care.